---

BIO:
 
Thank you for visiting Bonzo Bros. Drums. My name is Tom Meadows. I created this website because of my lifelong passion for drumming and the major influence that John Bonham has had on me over the coarse of my drumming career. I began drumming when I was 10 when I traded the electric guitar my parents bought me for a used Ludwig Big Beat Outfit and started playing along with my Creedence Clearwater Revival, Beatles and Bauchman-Turner Overdrive records. Then I was introduced to the new Led Zeppelin IV album and Black Dog was the coolest song I'd ever heard! I couldn't get enough of Led Zeppelin!! It was a complete game changer and Led Zeppelin became the standard by which I still judge all music. They did it all... Hard and heavy, slow ballads, blues grooves that were soulful... Best band ever.
Growing up in a small town in Western Colorado, I played in school concert band, marching band and several local rock bands covering all of the greatest acts: Led Zeppelin, Deep Purple, Black Sabbath, Grand Funk Railroad or anything else that was hard and heavy with a blues groove style rock from the late 1960's - 70's. It became obvious that my musical career was going to be limited to playing endless cover songs at backyard parties or the handful of local bars and I wanted to be the next Led Zeppelin or better so...
In 1984, I moved to Los Angeles, CA to pursue my dreams of becoming a rock star... After playing in several bands around Los Angeles, CA and Orange County, CA, I landed the position in Metal Blade Records, "Tyrant", in 1992 and stayed with them until 1999. During that time, I recorded the third Tyrant album - "King Of Kings" and played all over Southern California as support act for numerous bands such as Quiet Riot, Bullet Boys and Arcade. 
After leaving Tyrant, I relocated to Las Vegas, NV to follow my career as a Union Ironworker and played in a few tribute bands covering Black Label Society, Pantera, Iron Maiden and Deep Purple. They were all fun projects that broadened my horizons and approach to my playing by trying to duplicate the original artists performance and be as authentic as possible. I tend to be a perfectionist for both the musical integrity and the image that I'm attempting to duplicate so there have been a few drum sets that have been purchased to play my part accurately and authentically. 
Since I've always been influenced by John Bonham, one of my favorite replica kits has always been the Bonham Reissue Kit that I purchased from former Ludwig Artist Relations Manager, Todd Trent, who helped me set it up with the vintage Ludwig hardware. It sounds amazing and nothing generates that "BONZO" spirit better than sitting behind a stunning Amber Vistalite kit!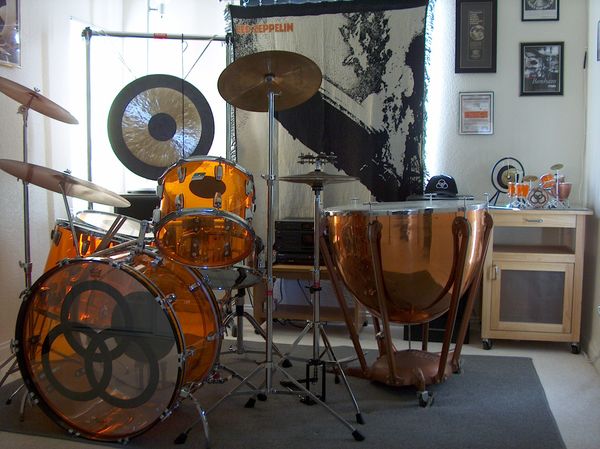 As a matter of fact, it sounded so amazing and looked so cool, it inspired me to get a Ludwig Octa-Plus Outfit in Amber Vistalite to match (because I think it's what Bonham would have wanted). Even though they looked amazing set up in another Gibraltar Cage Rack System, it was also an education into the affect that shell material, single or double head configuration and head type play in the sound that is produced.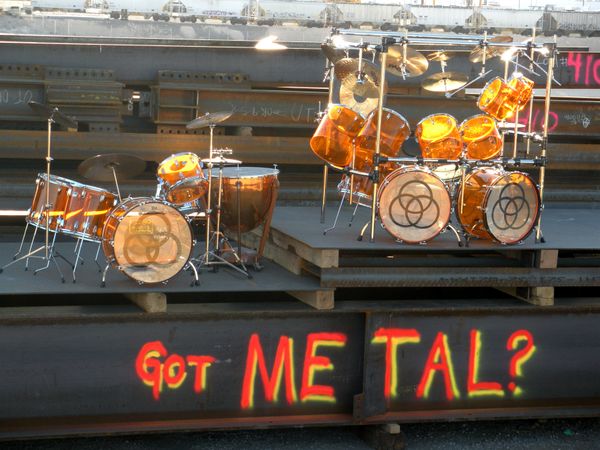 GEAR:
Ludwig Amber Vistalite Bonham Reissue Kit

Ludwig 3-Ply Maple Green Sparkle Kit (Bonham sizes)

Ludwig Amber Vistalite Octa-Plus Outfit

Roland TD-20SX V-Drums Kit
In my never ending collection of drum equipment, I'm on the lookout for:
Ludwig 3-Ply Maple Thermogloss Kit - 2 - 26", 14", 16", 18"

Ludwig Stainless Steel Kit - 26", 15", 16", 18"
---
Anaheim Convention Center
You are visitor number: 142972