---
---
Birth Name - - John Henry Bonham

Also Known As - - Bonzo, The Beast

Born - - May 31, 1948

PlaceOf Birth - - Redditch, Worcestershire, England

Died - - September 25, 1980

Place Of Death - - Clewer, Windsor, England

Genre - - Hard Rock, Blues, Folk

Occupation - - Musician, Songwriter

Instrument - - Drums, Percussion

Years Active - - 1962–1980

Label - - Atlantic, Swan Song

Assoc. Acts - - Led Zeppelin, Band of Joy
---
John Henry "Bonzo" Bonham was an English drummer and songwriter, best known as the drummer of the band Led Zeppelin. Bonham was born in Redditch, Worcestershire, England, to Joan and Jack Bonham.

He first learned how to play drums at the age of five, making a drum kit out of containers and coffee tins, imitating his idols Gene Krupa and Buddy Rich. His mother gave him a snare drum at the age of ten. He received his first proper drum kit from his father at the age of fifteen, a Premier Percussion kit. Bonham never took any formal drum lessons, though as a teen he would get advice from other Redditch drummers. While still at school, Bonham would occasionally perform as a stand-in drummer for bands such as the Blue Star Trio between 1962-63, and Gerry Levene & the Avengers in 1963.

Bonham attended Lodge Farm Secondary Modern School, where his headmaster once wrote in his school report card that "He will either end up a dustman or a millionaire". After leaving school in 1964, he worked for his father as an apprentice carpenter in between drumming for different local bands. In 1964, Bonham joined his first semi-professional band, Terry Webb and the Spiders, and met his future wife Pat Phillips around the same time. He also played in other Birmingham bands such as The Nicky James Movement, and The Senators, who released a moderately successful single "She's a Mod," in 1964. Bonham took up drumming full-time. Two years later, he joined A Way of Life, but the band soon became inactive. In desperation for a regular income, he joined a blues group called Crawling King Snakes whose lead singer was a young Robert Plant.

After the break-up of The Yardbirds, guitarist Jimmy Page met Robert Plant, who in turn suggested Bonham. Bonham already knew Plant, and knew Page from session work, as well as John Paul Jones. Page's choices for drummer included Procol Harum's B.J. Wilson, and session drummers Clem Cattini and Aynsley Dunbar. Ginger Baker was also rumoured to be on Page's list. However, upon seeing Bonham drum for Tim Rose in Hampstead, north London, in July 1968, Page and manager Peter Grant were instantly convinced that he was the perfect fit for the new project.

Despite an intensive campaign to snare the drummer, Bonham was initially reluctant to join the band. Plant sent eight telegrams to Bonham's pub, the "Three Men in a Boat", in Walsall, which were followed by forty telegrams from Grant. However, at the same time he was also receiving lucrative offers from established artists Joe Cocker and Chris Farlowe. In the end, though, Bonham accepted Grant's offer. He later recalled, "I decided I liked their music better than Cocker's or Farlowe's."

During Led Zeppelin's first tour of the United States in December 1968, Bonham became friends with Vanilla Fudge's drummer, Carmine Appice. Appice introduced him to Ludwig Drums, which he then used for the rest of his career. Bonham used the longest and heaviest sticks available (size 2B), which he referred to as "trees." His hard hitting style was displayed to great effect on many Led Zeppelin songs, including "Immigrant Song" (Led Zeppelin III), "When the Levee Breaks" (Led Zeppelin IV), "Kashmir" (Physical Graffiti), "The Ocean" (Houses of the Holy), and "Achilles Last Stand" (Presence). The studio recording of "Misty Mountain Hop" perfectly captures his keen sense of dynamics, and this is similarly exhibited by his precise drumming on "No Quarter." On several cuts from later albums, Bonham rather adeptly handled funk and Latin-influenced drumming. Songs like "Royal Orleans" and "Fool in the Rain" are good examples, the latter displaying great skill with a New Orleans shuffle and a samba rhythm.

He was renowned for his power, fast right foot, distinctive sound and "feel" for the groove. He is widely considered to be one of the greatest drummers in the history of rock music by other musicians and commentators in the industry, and one of the most important and influential musicians of his era. Bonham is described as "The perfect model for all hard rock drummers that have followed him".

His famous drum solo, first entitled "Pat's Delight," later renamed "Moby Dick," would often last for half an hour and regularly featured his use of bare hands to achieve different sound effects. In Led Zeppelin concert tours after 1969, Bonham would expand his basic kit to include congas, orchestral timpani, and a symphonic gong. Bonham is also credited (by the Dallas Times Herald) with the first in-concert use of electronic timpani drum synthesizers (most likely made by Syndrum) during a performance of the song "Kashmir" in Dallas, Texas in 1977. Many modern rappers would later heavily sample his drumming and incorporate it into their compositions, such as Beastie Boys, who sampled "Moby Dick," "The Ocean," and "When the Levee Breaks."

Bonham performing during Led Zeppelin's 1977 North American TourIn 1974, Bonham appeared in the film Son of Dracula, playing drums in Count Downe's (Harry Nilsson) backing band. This was an Apple film directed by Freddie Francis. Bonham appeared in an overcrowded drum line-up including Keith Moon and Starr on the soundtrack album. Bonham's action sequence for the film The Song Remains the Same featured him in a drag race at Santa Pod Raceway to the sound of his signature drum solo, "Moby Dick."

During his time with Led Zeppelin, Bonham was also an avid collector of antique sports cars and motorcycles, which he kept on his family's farm called The Old Hyde. He even bought The Plough pub in the nearby village of Shenstone, which shows signs of conversion work to allow him to drive his bikes or cars right behind the bar. This was not, however, the pub featured in the film The Song Remains the Same. It was in fact the New Inn which is currently boarded up, the only clue to its famous past being a picture hanging close to the bar.

As well as recording with Led Zeppelin, Bonham also found time to play on sessions for other artists. In 1969 Bonham appeared on The Family Dogg's A Way of Life, with Page and Jones. Bonham also sessioned for Screaming Lord Sutch on his album Lord Sutch and Heavy Friends in 1970. He also played drums on Lulu's 1971 song "Everybody Clap," originally written by Maurice Gibb and Billy Lawrie. Later in his career, Bonham drummed for his Birmingham friend, Roy Wood, on his 1979 album, On the Road Again, and for Wings on Paul McCartney's Back to the Egg Rockestra project.

On what was to be the very last day of his life, John Bonham and Robert Plant rode together to rehearsal for an upcoming tour of the U.S. - the band's first since 1977 - where he drank heavily from around noon until midnight. Later Robert Plant commented about that drive: "On the very last day of his life, as we drove to that rehearsal, he was not quite as happy as he could be. He said, 'I've had it with playing drums. Everybody plays better than me. I'll tell you what, when we get to the rehearsal, you play the drums and I'll sing.' And that was our last rehearsal." A halt was called to the rehearsals late in the evening and the band retired to Page's house, The Old Mill House in Clewer, Windsor. Bonham had fallen asleep on a couch and was taken to bed by an assistant and placed on his side with pillows for support.

In the book, "A Thunder Of Drums", John Paul Jones stated: "Benji (LeFevre - Led Zeppelin's Road Manager) and I found him. It was like, 'Let's go up and look at Bonzo, see how he is.' We tried to wake him up... It was terrible. Then I had to tell the other two. In fact, everyone was in particularly high spirits high spirits that morning. Then I had to break the news to Jimmy and Robert. It made me feel very angry - at the waste of him."

"We had just started rehearsing for a tour of America when Bonzo died. It was just at the point where we had all come back togetheragain. We had synchronised again and had high hopes that it was all coming right. Bonzo had been getting a bit erratic, and I can't say he was in good shape, because he wasn't. There were some good moments during the last rehearsals... but then he started on the vodka."

John Henry Bonham died on September 25, 1980 at the age of 32. In the coroner's inquest it was reported that Bonham had consumed forty measures** of vodka and had died from inhalation of vomit during his sleep and had suffered a Pulmonary Oedema - a swelling of the blood vessels due to the excess fluid being present.

**NOTE**: In Great Britain, the Standard Single Pub Measure is 25 ml, however a 35 ml Pub Measure is sometimes used as well. To get a rough idea as to how much alcohol 40 Measures would equal: Standard Measure = 1000 ml (UK) or 1 qt (US) or 2 pints (US). Larger Measure = 1400 ml (UK) or 1-1/2 quarts (US) or 3 pints (US).

John Bonham's cause of death was recorded as "Consumption of Alcohol", a verdict of "Accidental Death" was entered and an autopsy found no other drugs in his body. He was cremated and on October 12, 1980 interred at Rushock Parish Church, Worcestershire.

Despite media rumors that drummers including Cozy Powell, Carmine Appice, Barriemore Barlow, Simon Kirke or Bev Bevan, among others, would join the group as his replacement, the remaining members decided to disband Led Zeppelin after Bonham's death. They issued a press statement on December 4, 1980, confirming that the band would not continue without its drummer. "We wish it to be known that the loss of our dear friend and the deep respect we have for his family, together with the sense of undivided harmony felt by ourselves and our manager, have led us to decide that we could not continue as we were." It was simply signed "Led Zeppelin".
---
John Bonham had two siblings; his younger brother, Mick Bonham (1951-2000), was a disc jockey, author and photographer and his younger sister, Deborah Bonham (born in 1962), who is a singer-songwriter.

Bonham was married to Pat Phillips, and the couple had two children; his daughter Zoë Bonham (born 1975), who is a singer-songwriter and also appears regularly at Led Zeppelin conventions and awards and his son Jason Bonham (born 1966), who is a rock drummer, who has gained success with various bands including Foreigner and Bonham. In December 2007, he played with Led Zeppelin on their one-off reunion show, as well as their previous reunion at the Atlantic Records 40th Anniversary show in 1988. A 1970 film clip of a 4-year-old Jason playing drums appears in the Led Zeppelin film The Song Remains the Same. Zoë and Jason appeared at the induction ceremony for the Rock and Roll Hall of Fame in 1995 along with the surviving members of Led Zeppelin. His mother, Joan Bonham, is one of the lead vocalists for the Zimmers, a 40-member band set up as a result of a BBC documentary on the treatment of the elderly.

Bonham's cousin Billy Bonham (born 1950), also played keyboards for Terry Reid and Ace Kefford.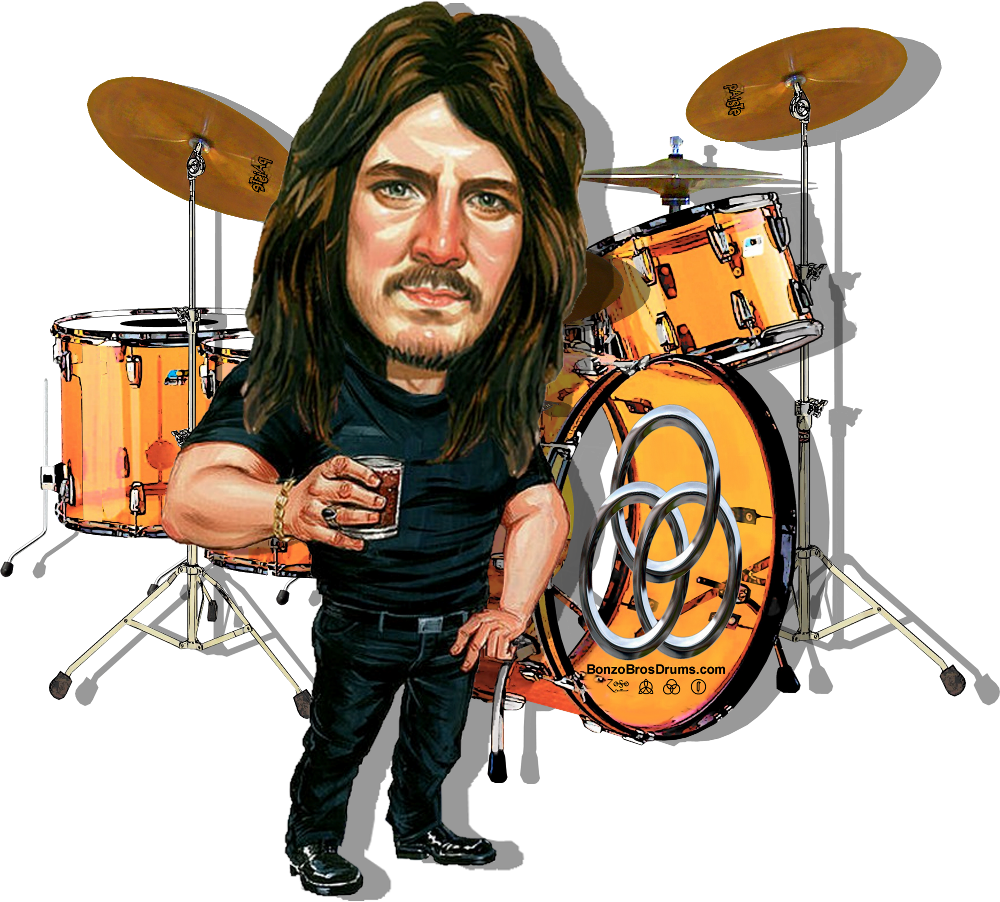 Bonzo's First Kit Was A Premier Drum Kit!!
John Bonham first took a liking to playing the drums at the age of five when he began making a drum kit out of containers and coffee tins and imitating his idols Gene Krupa and Buddy Rich. His mother gave him his first snare drum at the age of ten which he played until he received his first proper drum kit from his father at fifteen - a Premier Drum Kit. I searched for more specific information on which kit John actually owned but I was only able to come up with "a sparkling red kit". If anyone happens to know which set John started on and would care to share that info I would love to update this with that info.
---
Ludwig Drums:
Throughout his career, John Bonham was a major endorser of Ludwig Drums since the late 1960's. In concert, he used a wide range of different drum kits, but mostly of the same sizes. From 1970 on, he used a 14" x 26" Bass Drum which was the most identifiable part of his setup. He used 16" x 16" and 16" x 18" Floor Toms and occasionally changed his Tom sizes between 9" x 13", 10" x 14" and 12" x 15" Mounted Toms.
---
Paiste Cymbals:
John Bonham was also an endorcer for Paiste Cymbals for most of his career. Here's his cymbal list in the order he got them from Paiste:

15" Paiste Sound Edge Hi-Hat
18" Paiste Giant Beat Medium Crash
20" Paiste Giant Beat Medium Crash
24" Paiste Giant Beat Medium Ride
15" Paiste Sound Edge Hi-Hat
18" Paiste Giant Beat Medium Crash
20" Paiste Giant Beat Medium Crash
24" Paiste Giant Beat Medium Ride
29", 36" and 38" Paiste Symphonic Gongs
15" Paiste Sound Edge Hi-Hat
16" Paiste 2002 Medium Crash
18" Paiste Giant Beat Medium Crash
20" Paiste Giant Beat Medium Crash
20" Paiste 602 Medium Crash
24" Paiste Giant Beat Medium Ride
38" Paiste Symphonic Gong
15" Paiste Sound Edge Hi-Hat
18" Paiste Giant Beat Medium Crash
20" Paiste 602 Medium Crash
20" Paiste Giant Beat Medium Crash
24" Paiste Giant Beat Medium Ride
38" Paiste Symphonic Gong
15" Paiste Sound Edge 2002 Hi-Hat
16" Paiste 2002 Medium Crash
18" Paiste 2002 Medium Crash
18" Paiste 2002 Ride
20" Paiste 602 Medium Ride
24" Paiste 2002 Ride
38" Paiste Symphonic Gong
1 - 1 Cymbal Bag
---
Drum Heads:
Bonham played Remo Drum Heads throughout his career. For his wood drums, he always used Remo Coated Emperor's (or Ludwig equivalent) on his batter sides, while using Coated Ambassadors on the resonant side of his toms and a Clear Diplomat or Ambassador on the resonant side of his snare drum. The bass drums front head was always a medium weight head like a Remo Coated Ambassador. The batter head was always tuned medium-tight, (almost jazz-like) and the resonate head was always tuned way up, for a full, round sound. He never put anything inside his bass drum and only used a felt strip on the batter side occasionally. The bass drum heads were also tuned a lot higher than one would think.

On the Vistalites, he used Remo CS Control Sound Black Dots on the batter side of the toms and the bass drum and Clear Ambassadors on the resonate side. The snare always had a Coated Emperor on the batter side and an Diplomat or Ambassador on the snare side. He sometimes used a Gretsch 42-Strand Snare Wires to fatten the snare sound.
---
Bass Drum Pedal:
Bonham used Ludwig Speed King Pedal (a.k.a. Squeak King - with tight spring tension) throughout his career. His trademark bass drum "triplets", played interchangeably with doubles and singles - which are most notable in "Good Times Bad Times" - were played on a single bass pedal and not a double bass pedal. Unlike some contemporary drummers, Bonham did not use a double-bass drum kit. He did once own one - a Ludwig Thermo Gloss Natural Maple Kit featured in the demo "Communication Breakdown" - but it was removed from his kit by the rest of the band. John Bonham did play double bass drums while the band was touring with the band Vanilla Fudge.

It is possible to hear the squeak of the pedal in several recordings, including "Since I've Been Loving You", "The Ocean", "The Rain Song", "Houses Of The Holy", "Ten Years Gone", "Bonzo's Montreux" and the live version of "I Can't Quit You Baby" on Coda and "All My Love" on In Through The Out Door.
---
Jimmy Page Later Commented:
"The only real problem I can remember encountering was when we were putting the first boxed set together. There was an awfully squeaky bass drum pedal on "Since I've Been Loving You". It sounds louder and louder every time I hear it! [laughs]. That was something that was obviously sadly overlooked at the time."
---
1967 Ludwig Kit:
Reg Jones (Way Of Life - Vocalist) said that in 1967, John Bonham was playing a Ludwig Drum Kit in Blue.
---
1968 Slingerland Sparkle Kit:
John Bonham acquired the Slingerland Sparkle Drum Kit in the mid to late 1960's before he was in Led Zeppelin. He most likely was using this kit playing with Tim Rose when Jimmy Page came to see him play on July 31, 1968 at Hampstead Country Club, Hampstead, London, England, upon recommendation by former "Band Of Joy" bandmate, Robert Plant. John Bonham used the Slingerland Sparkle Drum Kit with Led Zeppelin from the first gig on September 7, 1968 through December 20, 1968.
---
1968 Hayman Kit:
John Bonham received a Hayman Kit in Midnight Blue in 1968. The snare drum was later given to drum technician, Mick Hinton. Later he gave it to drummer Will Wright, who in turn left it in the hire stock at John Henry's Ltd.
---
1968 Ludwig Black Diamond Pearl Kit:
When Led Zeppelin first came to America, John had a Ludwig Black Diamond Pearl Kit. This drumkit was used on stage from December 26, 1968 through February 15, 1969. This kit may have been previously owned by The Yardbirds drummer, Jim McCarthy, and used on Led Zeppelin I as well.

  9" x 13" Tom
16" x 16" Floor Tom
16" x 18" Floor tom
14" x 24" Bass Drum with Rail Consolette Tom Mount
Ludwig & Ludwig 20's/30's COB Tube Lug Snare
Rogers Swivo-Matic Cymbal Stands
Rogers Swivo-Matic Hi-Hat Stand
Ludwig Atlas Snare Stand
Ludwig Speed King Pedal
Ralph Kester Ching Ring
15" Paiste Sound Edge Hi-Hat
18" Paiste Giant Beat Medium Crash
20" Paiste Giant Beat Medium Crash
24" Paiste Giant Beat Medium Ride
The first endorsement kit that John Bonham got from the Ludwig Drum Co. was in 1969. Carmine Appice, Vanilla Fudge's drummer, personally rang up the Ludwig factory after John Bonham had expressed an interest in getting a drum kit like the one that Carmne was playing at the beginning of Led Zeppelin's first U.S. Tour in December 1968 - a Ludwig Thermo Gloss Natural Maple Kit. This drum kit used to to record Led Zeppelin II and on stage from March 1, 1969 through April 18, 1970 for the Spring 1970 U.S. Tour.

When John first got this kit he used both bass drums in rehearsal and for a couple of shows. He soon got rid of it because his fellow band members said he was drowning them out! The Tom was first placed on a Ludwig Atlas Snare Stand but later he added a Roger's Swivo-Matic Tom Mount while still keeping the snare stand there. He used a pair of Conga Drums and also a pair of small Concert Toms next to his Hi-Hat - but he only used these for a short time.

The Ludwig Thermo Gloss Natural Maple Kit was eventually sold to Colin Fairley, who was John's sister, Deborah's boyfriend. Later he sold the drumkit to Paul Thompson in 1976 for £600 ($966.36 USD).

6.5" x 14" Chrome Supra-Phonic Snare Drum

12" x 15" Mounted Tom
16" x 16" Floor Tom
16" x 18" Floor Tom (added later on)
14" x 26" Bass Drum
14" x 26" Bass Drum with Cymbal Holder
Rogers Swivo-Matic Cymbal Stands
Rogers Swivo-Matic Hi-Hat Stand
Ludwig Atlas Snare Stand
Ludwig Speed King Pedal
Ralph Kester Ching Ring
15" Paiste Sound Edge Hi-Hat
18" Paiste Giant Beat Medium Crash
20" Paiste Giant Beat Medium Crash
24" Paiste Giant Beat Medium Ride
29", 36" and 38" Paiste Symphonic Gongs
Bonham's second kit came from Ludwig in about May 1970, just before the start of the Iceland Tour. John was sent three kits in this configuration from Ludwig: the first is owned by his widow, Pat Bonham - which was on loan to the Rock And Roll Hall Of Fame and now sits at their home, The Old Hyde, with John's picture over it, the second by drum tech, Jeff Ocletree and the third by a private collector in update New York. This kit was used on stage from June 22, 1970 through April 2, 1973 through the end of the 1973 European Tour. This kit was John's favorite recording kit and all of Led Zeppelin's albums from III onwards where recorded using this kit.

6.5" x 14" Chrome Supra-Phonic Snare Drum

10" x 14" Mounted Tom
16" x 16" Floor Tom
16" x 18" Floor Tom
14" x 26" Bass Drum with Rail Mount & Cymbal Mount
29" Ludwig Machine Timpani Drum
30" Ludwig Universal Timpani Drum
Ludwig Atlas Stands (Flat Steel Legs)
Rogers Swivo-Matic Hi-Hat Stand
Ludwig Speed King Pedal
Ralph Kester Ching Ring
15" Paiste Sound Edge Hi-Hat
16" Paiste 2002 Medium Crash (1973)
18" Paiste Giant Beat Medium Crash
20" Paiste Giant Beat Medium Crash (1970-1972)
20" Paiste 602 Medium Crash (1973)
24" Paiste Giant Beat Medium Ride
38" Paiste Symphonic Gong
1973 Ludwig Amber Vistalite Kit